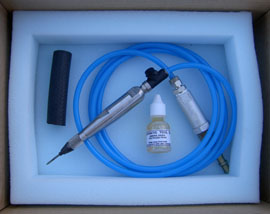 TT Fossil Preparation Pen
Instructions for use
Pre fitted air connector, filter and a 6 feet long hose
Lubrication oil in convenient dropper bottle
The protective sheath
Max blows per minute 13500. Air flow 1.1 cfm.
Vibration level 4.2 m/s/s. Sound level 79 db.
Fossil Preparation Pen.
Model TT
Pneumatic air operation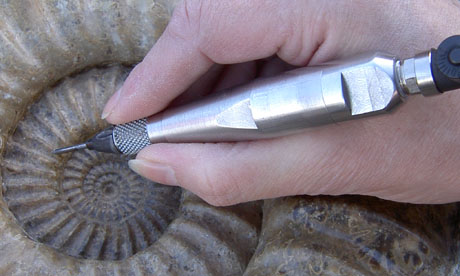 Our TT Fossil Preparation Pen is a very versatile fossil preparation pen.
Evolved and produced by us specifically to meet the more demanding requirements of fossil preparation without compromises to other uses. Far removed from a basic industrial air engraver that was often pressed into service in the past, it has a far superior versatility and flexibility to produce the best fossil results. All the component parts are unique to our TT pen,
The TT pen includes
A considerably robust stylus with considerable tungsten carbide at the tip, for an extremely long life, in a grade suited to working with stone.
A refined nose, in hardened steel, gives great support to the stylus, enabling matrix removal at the finest level to be maintained. Fossil prep typically is done with the pen at a more acute angle increasing considerably the side load on this critical part.
A main body made from stainless steel, with a good grip, giving better control for both detailed work and fast matrix removal at fossil preparation angles and applications.
Lever switch for easier power control, balance and a lighter hose that can be easily adjusted for length.
Hand made here, we have 100% quality control and 100% total spares backup and service support.
The TT Fossil Preparation Pen is deceptively powerful for its size, while being genuinely capable of truly fine finishing work, with a surprisingly meagre air consumption. It has a wide power range and is easily and instantly varied for close or fast work. Very popular with users who prepare larger ammonites or multiple ammonite blocks and large vertebrates.