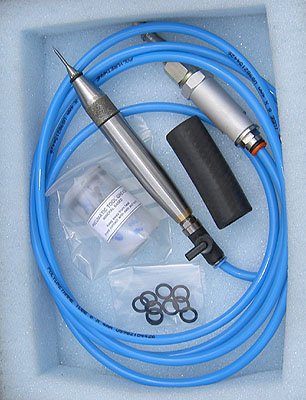 Our ST Fossil Preparation Pen showing
Prefitted airfilter
Spare seals pack
Instructions for use
Pre fitted air connector
Lubrication in convenient container
The protective sheath for the nose/stylus

As delivered in its foam lined box
Max blows per minute 30000. Air consumption 2/4 cfm.
Max air pressure 90psi. Weight of pen body 200g.

Fossil Preparation Pen. Model ST
Pneumatic air operation
The ST Fossil Preparation Pen. Is a fossil preparation pen that has evolved entirely in our fossil preparation workshop environment without compromises to other uses from a well established generic metal engraver. It has seven competely new fossil focused parts and three major upgraded modifcations.
Fossil preparation puts very specific demands on tools and subjects them to totally different stresses than other applications such as metal engraving. Typically a fossil preparation pen at this level has to run for longer, has to be smoother, quieter and be considerably more flexible than "make do" air engravers. Points need to be in a material that can deal with the abrasive nature of rock rather than metal and they need a precise exhaust to deal with dust build up at the point of work. Bearings have to be more substantial to deal with the acute cutting angles rather than the upright peening stance of engraving pens. Points obviously have to be longer too.
The ST has the following
Precise airstream over the tip.
Flexible Operation from 30PSI(2bar) to 90PSI(6bar)
Easy to maintain and proven reliability. Many supplied over many years.