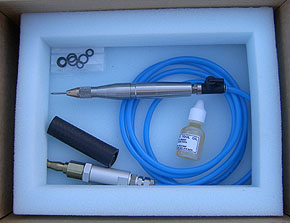 SL2 Fossil Preparation Pen
Spare seals pack
Instructions for use
Pre fitted air connector and filter
Lubrication in convenient container
The protective sheath for the nose/stylus
As delivered in its foam lined box
Air consumption 4 cfm. Max air pressure 90psi.
Fossil Preparation Pen. Model SL2
Pneumatic air operation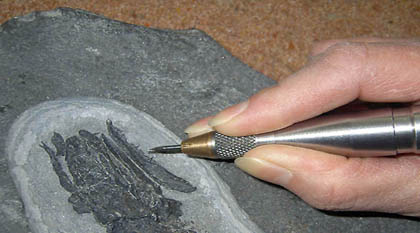 The SL2 Fossil Preparation Pen was designed and is manufactured solely by us specifically for Fossil Preparation
It has important and unique fossil preparing features developed on an extensive range of fossils over many years that we know benefit users, particularly those doing a lot of high end important work, who can take full advantage of the refinements
The SL2 pen has a complex alloy twin bearing design to support the very long stylus at critical points to virtually erradicate any deflection at the tip , significantly increasing smoothness and drastically cutting down operating noise.
Extremely flexible and surprisingly robust, this pen has a top level combination of characteristics such as lightness smoothness and flexibility that is hard to match.
Proven reliability comprehensively supported by our total spares availibility and service backup
Features include
Airstream over the tip
Can operate over a wide pressure range. Just as happy at 45 psi as 90psi
Quiet and smooth running
Well balanced for fossil preparation
Twin alloy body construction for lightness
Instant lever switch adjustment through a wide range.
Simple to maintain, only three basic moving parts.
Inline filter, lubrication, sheath, spare seals included.
Simple variable hose length adjustment