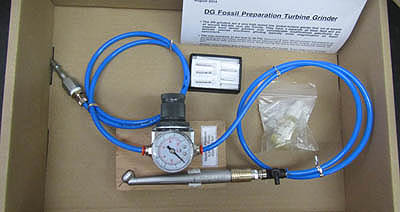 DG Fossil Preparation Grinder
Revs per minute 350,000.
Max air pressure 40psi. Weight of pen body 150g.
The DG has the following
Independant precise airstream over the grinder head for clear working.
Low air pressure operation from 20 PSI(1.5bar) to 40 PSI(2.5bar).
Precise worktop regulation and inline operating handpiece switching.
Low air consumption compared with comparable grinders.
Easy to change FG(Friction Grip) burrs, achieved in seconds.
Simple hose length change, simple lube system.
The DG is supplied with the following Extras
Standard airline connector fittings.
Ten diamond burrs aimed specifically at fossil preparation.
Lubrication oil.
User / operator instructions.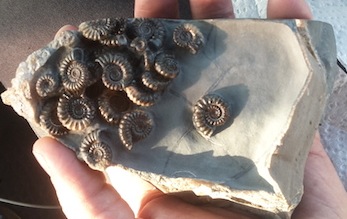 A highly pyritised and fissured block of ammonites prepared in high relief using our pens with the support of a DG grinder.
Fossil Preparation Micro Grinder
Model DG
Pneumatic air operation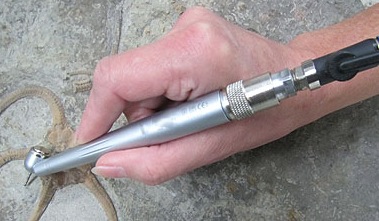 The DG high speed turbine grinder is one of our specialist Fossil Preparation tools. Typically not a fossil preparers first tool, they non the less are a welcome addition to an advancing preparers arsenal.
The very high speed of the burrs (350,000 rpm +) produces an almost shockless and very controlled removal of matrixes meaning they are invaluable for very close fine work and for rock, where there is very little natural fracture for pens to capitalise on.
Extensively adapted from high build quality Japanese dental handpieces we enable them to be run from normal air compressors with standard fittings and a lever hand switch.(In dental use they do not have an intergrated switch). They have an essential air stream over the burr. The angled head allows the burr to always remain in view, even under magnification.
This tool actually gets an easier life after adaptation to fossil preparation. In dental use with the addition of water going through them constantly together with air and being autoclaved (steam cleaned to kill bacteria) many times, they get a harder time of things. Our addition of a lubrication system, the simpler connection to the air source and the ommission of water, considerably extends the handpieces life and makes them easier to use.
Grinding especially micro shockless grinding that the DG does well can give remarkably effective results especially when used in tandem with other fossil preparation tools.