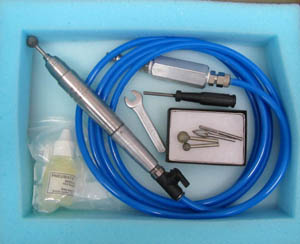 Contents
Standard airline connector fittings.
Four diamond and tungsten carbide burrs suitable specifically for fossil preparation and rock working.
Lubrication oil.
User / operator instructions.
Burr changing tools.
Revs per minute 30,000.
Max air pressure 60psi. Weight of pen body 200g.
The AG Fossil Preparation Grinder is one of our specialist Fossil Preparation tools. They are a very powerful and effective tool for the experienced and progressing preparator.
Produced by us using top quality industrial level generic grinder components. They are given an essential front exhaust and are modified to use less air with more refined control in use.
Features include
Independent precise airstream over the grinder head for clear working. Unusual in generic grinders that typically have a rear exhaust rendering them all but useless for fossil preparation.
Retuned and modified to run at lower air pressures with less air consumption and smaller compressors.
Simple hose length change, simple lube system.
Instantly adjustable lever switch at point of use for more control.