Fossil Preparation Pen. Model NP
Pneumatic air operation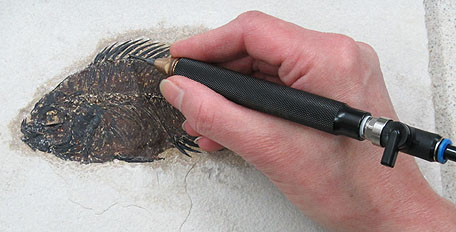 Our NP Fossil Preparation Pen is one of our specialist pens. We produce a pen with precise control through a variable lever switch for fine work typically under magnification where the very fine tip does not look like a drainpipe and does not appear to move meaning you get very precise control. Often used in tandem with our "faster" pens for the final delicate finishing of pieces or the preparation of specimens on fragile, soft or very fine laminated shales. Obviously it is focused on producing very fine work rather than bulk matrix removal.
The NP pen. has the benefit of a front exhaust to keep the work clear and a well supported stylus fitted within a slender alloy nose with a very fine 1.5mm tungsten carbide point.
Enduringly very popular with university and museum fossil preparators. It is also often the pen of choice for archaeological conservators for the removal of heavy encrustations on metals, pottery and stone.
The NP has a very frugal air consumption when compared to our other pens and a low operating air pressure of 30 psi to 45psi (2 to 3 bar) making it a very gentle running pen and can often be run from a modest air supply / setup or a silent refined laboratory dental compressor.