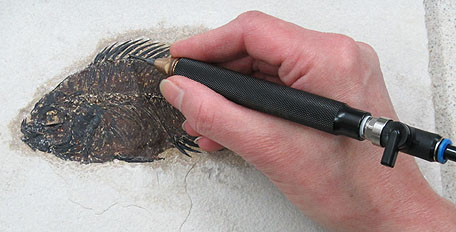 Our NP Fossil Preparation Pen is remanufactered by us from well established generic engraving components. It was developed specifically for very fine work typically under magnification and when control rather than fast bulk matrix removal is a leading requirement.
The NP pen has the benefit of a front exhaust to keep the work clear and a well supported stylus fitted within a slender alloy nose with a very fine 1.5mm tungsten carbide point.
It has a very frugal air consumption in comparison to our other pens and a low operating air pressure of 30 psi to 45psi (2 to 3 bar) making it a relatively gentle pen and can often be run from a modest air supply such as some of the larger silent running compressors.
Enduringly very popular due to its specific focused operating parameters and ease of use.