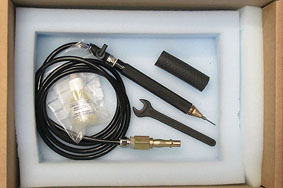 Contents
Stylus removal spanner
Instructions for use
Pre fitted air connector
Lubrication in convenient container
The protective sheath for the nose/stylus
Air consumption less than 2 cfm at 45psi.
Max air pressure 45psi. Weight of pen body 150g approx.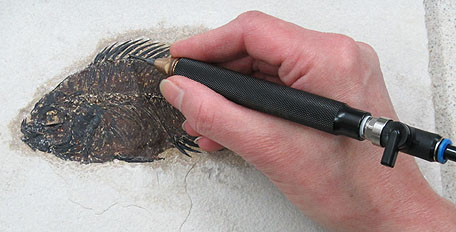 Our NP Fossil Preparation Pen is manufactered by us. It has the benefit of a front air exhaust to keep the work clear. Our manufactured parts include a well supported stylus fitted within a slender alloy nose with a very fine 1.5mm tungsten carbide point for effective fossil preparation.
It has a very frugal air consumption in comparison to our other pens and a low operating air pressure of 30 psi to 45psi (2 to 3 bar). It remains an enduringly popular pen especially in academic circles where ease of use is a leading factor.